Ghoul (Mythos)
Move: 120 feet/turn
Hit Dice: 2
Armor Class: 8
Treasure Type: I
Alignment: Neutral
Attacks: 1
Damage: 1-6
Ghouls are a dog-like demihuman race that feeds exclusively on the flesh of dead humans, demihumans, and humanoids. Ghouls can grow to be quite large over time, and the leader of a ghoul clan is around 8 feet tall and has 4 hit dice, with their attacks dealing 1-8 points of damage. Ghoul children look and act like regular humans until they reach maturity, when their canine features and craving for dead flesh begin to gradually set in. Ghouls have a rubbery appearance, and are often covered in grave mold, but despite this they are not undead. Ghouls live forever in not killed. Ghouls typically can only speak the glibbering language of their own kind, but some can communicate in common.
(Image from Pathfinder)
Deep One
Move: 100 feet/turn (240 feet/turn while swimming)
Hit Dice: 2
Armor Class: 6
Treasure Type: D
Alignment: Chaotic Evil
Attacks: 1
Damage: 1-6
Deep Ones (also called Dagonites) are a race of aquatic humanoids with features resembling both fish and frog. Deep Ones can interbreed with humans, and offspring of these unions usually appear to be human until they are around 40, at which point they begin to change into fish-like monstrosities. Deep Ones move with a hopping, awkward gait on land. Deep Ones worship the evil fish deity Dagon, as well as the octopoid deity Cthulhu. Some Deep Ones are clerics, and may have more hit dice than their lesser brethren. Some Deep Ones grow to truly monstrous proportions, having 6 hit dice and dealing 1-10 damage with their attacks.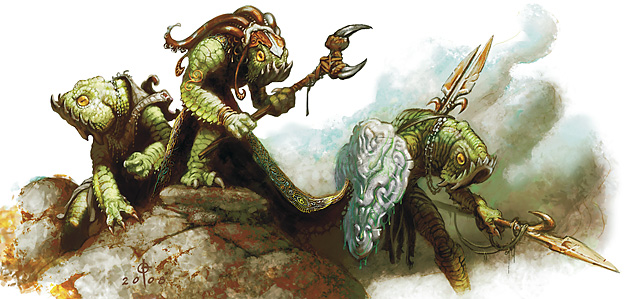 (Image from Dungeons and Dragons 4th edition)
Familiar
Move: 180 feet/turn
Hit Dice: 1
Armor Class: 6
Treasure Type: nil
Alignment: Chaotic Evil
Attacks: 1
Damage: 1-4
Familiars are the servants of witches and warlocks, and resemble rats with human-like faces and hands. Familiars whisper secrets to their masters, and can even assist in casting spells. If a magic-user has a familiar, then they are treated as one level higher for the purposes of spell-casting than they usually would be. It is not unheard of for familiars to avenge their masters if they are killed, murdering whoever slew the witch they were bound to before curling up and dying.
Lurking Fear
Move: 120 feet/turn
Hit Dice: 1-1 point (minimum 1 hit point)
Armor Class: 8
Treasure Type: Q
Alignment: Chaotic Evil
Attacks: 2
Damage: 1-4 each
Lurking Fears are ape-like creatures who are the descendants of an ancient noble family which fell into decline long ago. All Lurking Fears have different colored eyes, a trait of their ancestors. Lurking Fears are aggravated by thunder storms, and often come crawling up from their burrows beneath old mansions to hunt during these times.
Ghast (Mythos)
Move: 180 feet/turn
Hit Dice: 3
Armor Class: 9
Treasure Type: nil
Alignment: Neutral
Attacks: 1
Damage: 1-8
Ghasts are aggressive, kangaroo-like humanoids with no noses or foreheads. They are about the size of ponies, and dwell in caverns deep beneath the earth. They are sensitive to light, and if exposed to direct sunlight, they take 1-8 damage per round of exposure. Ghasts are enemies of Ghouls, and often war with them. Ghasts attack with their ferocious kicks.